Friendly advice 020 8991 1800
sales@corporateclothingwear.com


About Aspect Corporate Clothing
Mens and Womens promotional & workwear clothing - London & Bradford, UK
Quick Links
Aspect Corporate Clothing has been trading for over 30 years in the UK. David Wilton took over the running of the business in December 2008. Since then he has focused solely on providing a truly professional and reliable service. That sounds simple and obvious. But in reality most companies operating in this industry are either focused on web orders with little customer engagement or high volume/low quality output.

David realised that customers ordering branded/personalised clothing – often for the first time – will have a number of questions and concerns that need to be answered before they'll feel confident to order. So David re-designed the business model to focus on answering customers pre-sales enquiries.

David then assembled an experienced team of printers and embroiderers for Aspect's corporate clothing range. He also ensures all staff are kept up-to-date on the latest garment fabrics, styles, printing techniques and embroidery threads. The team are hard-working and creative; we're all about solving your corporate clothing conundrums from providing uniform solutions for your business to ensuring your promotional event has the perfect look to complement your brand message and goals.

There are 8 ways to contact us – all virtually instant – enabling the customer or prospective customer to speak to a knowledgeable industry profession who will be able to answer questions, provide a quote and offer expert advice.

We'll take the time to ensure you get what's best for your organisation. Users of workwear, corporate clothing, PPE and promo clothing all have different needs and can be met if we ask the right questions.

And I suppose the last and perhaps most important difference between us and other clothing suppliers is that we won't take-on a job unless we can meet your deadline. And we never miss deadline. That is what makes Aspect different from its competitors.

If you want to speak to Managing Director David Wilton or any of our knowledgeable staff please call 020 8991 1800
These are the garment decoration services we excel at: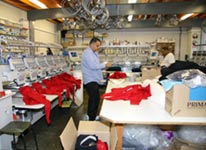 Embroidery
We use modern computer controlled multi-head, multi-thread industrial embroidery machines operated by experienced and skilled embroiderers so we can replicate elaborate logos and designs. And that is how great embroideries are created. The machines are brilliant but our operators make the difference.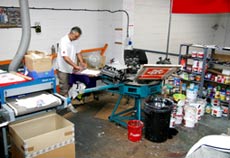 Screen Printing
The key to producing a good quality print is the artwork. A vector format image file (.AI or .EPS) are the most popular (and industry standard) file formats. We start with printing your design onto film, then shooting the film onto the screen and then screen printing the design onto your garments. We can blend the inks to a specific Pantone reference or colour match to your artwork or corporate branding guidelines. And finally, the curing process is essential in ensuring the print is durable for multiple washes and long lasting.
Transfer Printing
This method of garment decorating is ideal for short runs and printing individual names (monogramming). Transfer printing has come a long way from the old days of cracking and peeling vinyl and paper transfer paper. These days the materials are extremely durable and produce a striking multi-colour print effects that are long-lasting.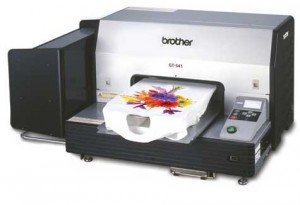 Direct to Garment Printing (DTG)
DTG printers are bigger versions of the kind of inkjet printer you'll find on your desk, loaded with a t-shirt instead of A4 paper. The finish is a high quality vibrant coloured print that is durable and long-lasting. This decoration method is ideal for short run multi-colour prints.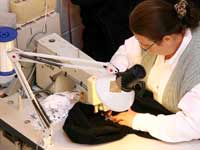 Relabelling
This service is popular with promotional companies, event organisers, large corporate clothing buyers and retailers. We can supply customers with off-the-shelf garments that we can embroider or screen print and then remove the manufacturers label and replace it with their own/clients branded label. We are creating bespoke garments at a fraction of the time and cost it would take to design and manufacture a custom-made garment. This facility encompasses our tax tabbing service which is the process of sewing on a label to avoid HMRC (the UK tax authority) deeming the supply to staff of unbranded workwear as a gift-in-kind. View our re-labelling page