Friendly advice 020 8991 1800
sales@corporateclothingwear.com


Aspect celebrates 30 years in business
Quick Links
Posted by Mark Tanner on 03/01/2020
2020 marks the start of Aspect celebrating 30 years in the workwear industry.
Starting out with one small embroidery machine we've grown to include screen printing, transfer printing, DTG (digital printing, imagine an inkjet printer for clothes), re-labelling, tax tabbing, manpacking and compressed t-shirts.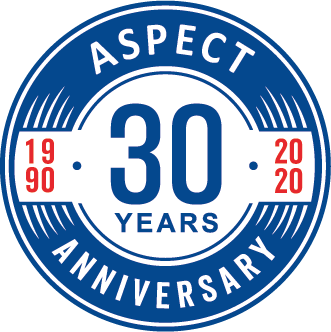 Wow, that was quick. In the blink of an eye we have seen the business grow and accommodate technology changes. What can be said of the time frame we've been trading is that the pace of business has increased hugely. Lead-times have shrunk from 30 days to 7 working days. Customers and potential customers expectations have shifted from the time it takes to prepare a quotation from 3 days to 30 minutes (from post to fax to email). We recognised as soon as email became the normal and the preferred way buyers liked to receive information that expectations had changed forever. We understood that if we provide a quote quickly with supporting information such as spec. sheets and images for the quoted items we'd be seen as efficient and reliable. This is contrary to the quoting techniques some sales gurus recommend (be the last to quote and therefore the most likely to get the buyer's attention).
That said, the fundamentals of the business haven't changed. The customer will choose its supplier based on a number factors often we're not aware of. Let's be frank; the garments we supply are available to other corporate clothing suppliers. The embroidery machinery now days is universally good Any machine younger than 10 years old will produce good results. Screen printing is a 2000 year old method of decorating garments and not a huge amount has changed in that time. So we need to provide a level of service that is exceptional. That starts with the people and training. We take pride in ensuring our staff fully understand the garments they are selling. And likewise, they know what decoration (screen print, embroidery, digital or transfer print) will work best on the garments for what the customer is trying to achieve. That skill doesn't take 30 years but it's not there on day one.
Much of the work we do is promotional. The event or trade show or product launch will be taking place whether the order is delivered on time or not. So over ten years ago we decided to promote the fact - backed up by the statement printed on every quote – that we won't take on an order if we can't complete by the customer's deadline. And our customer like that guarantee. Usually a standard workwear job doesn't have a specific deadline, so the estimated delivery date is sufficient for the customer to know when to expect the order. However, we usually beat that date as we love delivering early.
Our gratitude to our customers is enormous. Without them returning we wouldn't have a business. This industry relies on repeat business. Once the customer has been through the initial design and garment approvals, they hope to be able to call or email their next orders without too much fuss. So for a customer to change provider you'll have screwed-up in some way. We recognised this early on and value our customers and their business which is the basis for our continued success.
We convey to our staff how important their attitude is to the success of Aspect, many of whom have been with us for many years and we are grateful for their continued enthusiasm and hard work.
We're excited about the next 30 years. Next update in 10 years.
For a discussion about your corporate clothing or promotional gift requirements please call Mark or David on 020 899 1800 or email us at sales@corporateclothingwear.com.