Friendly advice 020 8991 1800
sales@corporateclothingwear.com


Corporate Branded Staff Uniforms
Quick Links
A corporate uniform can be an amazing asset for your business.
Providing a uniform for your staff has many benefits and can help your business to grow in many ways.
Corporate clothing can serve practical purposes, promote a sense of belonging amongst your employees, help customers identify your staff efficiently and promote your business to a wider audience. For many reasons, more and more companies are adopting a work uniform policy, providing a range of workwear to their employees.
The type of work clothes you will want to provide will depend entirely on your specific business and your employees. Here are some uniform ideas for business to get you started.
These are some of the organisations that we work with: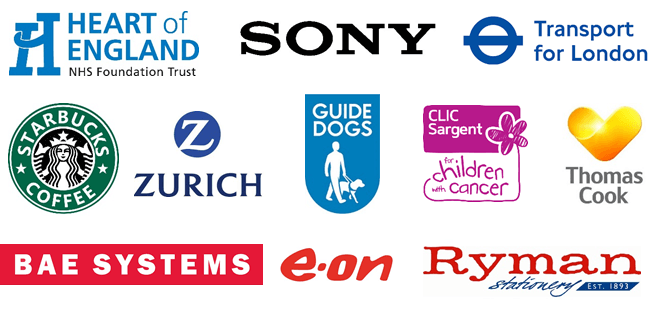 Staff
uniform – general points
There is a huge range of corporate clothing available, from branded t-shirts and polo shirts, ties and scarves, aprons, lab coats, to formal suits for your sales force and executives. You need to think about who you want to wear your company's brand, and how. Ideally, you will provide branded staff uniform for at least every member of customer facing staff, although a corporate uniform for all staff, whether they are front-line or back-room has the benefit of promoting a team culture, even if a customer will never see it.
Restaurant uniform ideas
When kitting out your restaurant staff, practicalities are just as important as brand recognition. Traditional waitress and waiter uniform have tended towards a crisp white shirt and black trousers or a skirt. There has been a shift recently into more informal clothing, such as a branded t-shirt or polo shirt with standard black trousers, with some high-street restaurant chains even allowing staff to wear a company branded shirt with less-traditional items such as jeans.
A restaurant uniform needs to be durable and stain resistant too. The rigours of a restaurant environment and the frequent washing will take its toll on the staff uniform, so look into items which are high-quality, durable and wash well.
A waiter or waitress apron is fairly standard these days. An apron with pockets for a pad and pencil, and increasingly, an iPad or POS unit can be printeded with your logo relatively easily. A branded apron gives easy recognition of team members for your customers and suits the practicalities of the job for your restaurant staff.
Bar uniform ideas
Whilst bar staff don't necessarily need to be easily found by customers, or need pockets for POS units, bar uniform will take a fair bit of punishment from spillages, so work clothes need to be easily washable at a high temperature. A poly/cotton fabric makes the garment easier to iron after washi ng and more durable.
Generally, bar staff are seen mostly from the waist up, so investing in good-quality shirts or T-shirts or embroidered polo shirts is best. Your logo/branding can be positioned on left or right breast, either sleeve or on the back either across the shoulders or just below the collar (known as the nape of the neck).
Receptionist uniform ideas
The most customer-facing role at your company could well be your receptionist. While other office staff may be reluctant to wear a staff uniform, receptionists are generally used to playing their part in projecting a professional image to customers.
As the first point of contact in your company, it is vital that the receptionist sets the tone for your brand. Receptionist uniforms range from a simple branded polo shirt to a full formal suit with tie/scarf. What is important is that visitors can instantly recognise your receptionist as the correct person of whom to make enquiries and this will give visitors confidence that they are not just talking to a random employee who has happened to wander in from the warehouse! Formal clothing to identify your receptionist and other office staff from more practical employees allows your visitors to quickly identify the best person to speak to.
Office uniform ideas
Whether you need a team uniform for your office staff may depend how much they are exposed to customers. While many companies, particularly those in the growing creative sector, are more than happy to let their team wear whatever they want, regardless of customer contact, there are also companies which prefer to have a corporate clothing scheme.
For customer-facing staff such as receptionists (see above), customer service assistants, and sales staff it is good practice to have a team uniform which projects a professional image and encourages brand-ambassador behaviour in your staff. Embroidered shirts and blouses are popular, and for those who work in services such as banking or recruitment, branded ties for the men and scarves for the ladies are a common sight.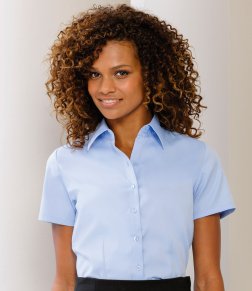 Retail uniform ideas
When choosing a shop uniform for your retail employees, the primary consideration should be easy identification of your team members. For customers with a query, retail staff need to be easy to find – if a customer can't find an employee to answer a query, there is a danger that you will lose the sale. While retail employees shouldn't need to have clothing quite as robust as those of restaurant staff, although some retail environments do demand it, it is essential that clothing is easy to launder to ensure that retail staff have a clean and fresh-looking uniform daily, or even more frequently.
Again, retail uniform could be a simple-looking printed t-shirt or embroidered polo shirt with standard trousers or skirt. More heavy retail businesses such as builder's merchants also like to provide their staff with branded heavy-duty trousers, fleeces, gloves, and even hats such as branded baseball caps or bump caps.
Turning your uniform ideas into reality
Once you have decided which items you may like for your team uniform you need to thrash out the details. What you actually end up commissioning will depend upon how many items you will need, your budget, and the technical requirements necessitated by your corporate logo and branding.
You may want to find items such as shirts or aprons in your exact corporate colour, or have to make compromises depending on availability. One consideration is whether your logo is to be printed or embroidered.
As a rough guideline, this is our advice for getting your logo on to your team clothing.
Printed logos and branding does tend to look a bit cheaper than embroidery and that's because, particularly for high volume orders, it is cheaper. For large single-colour designs, printing onto corporate clothing tends to be the most economical method.
Embroidered logos look higher quality (and are perceived as better) and embroidering allows for the use of multiple colours relatively easy. However, it is much more expensive to embroider large logos to large areas such as the back of a garment. For smaller, colourful logos it can be cheaper than printing, depending on the run quantity.
Top tip: Tax relief is available to your employees in the UK if they wear a uniform at work. If your employees are paying income tax and wearing a uniform, they can claim tax relief. There are lots of companies who'll offer to claim the tax for your employees but it's possible to claim directly. Employees have to meet a set of tax relief criteria i.e.
The staff wear an identifiable uniform that shows they've got a certain job, like a branded polo shirt.
Your business requires staff to wear it while they're working for you.
You ask your staff to purchase, clean, repair or replace the uniform themselves.
The staff paid income tax in the year you are claiming for.
It's worth making your staff aware of this UK tax relief opportunity when you've told them about the uniform they need to wear when representing your company.
Our experienced team are here to help you. If you have any questions or would just like to discuss your team uniform ideas for your business with an expert, please don't hesitate to get in touch.