Friendly advice 020 8991 1800
sales@corporateclothingwear.com


Why pay twice as much for this workwear fleece?
Quick Links
Posted by Jill Cartwright on 15/08/2017
The workwear fleece that costs twice as much.
This fleece is special! It been specifically designed after extensive research. The jacket has been designed to meet the tough requirements of companies across a wide range of industries and environments. Kustom Kit wanted to develop a range of workwear garments workers want to wear rather than had to wear. They identified a segment of the market that wants high quality durable and smart workwear for staff working in dirty, dusty outdoor conditions.
The spec. is very high; Double layer bonded micro fleece body and sleeves. Water repellent polyester taslan collar, shoulder, back yoke and elbow patches. Full length metal zip. Right chest zip pocket. Two front zip pockets with tricot lining. Polyester/spandex bound cuffs and hem. Drop tail. Manufactured in 100% polyester micro fleece with a fabric weight: 360 gsm (grams per square metre).
The 360 gsm makes this a very warm jacket but is still easy to move in when carrying-out physical labour. The elbow and shoulder patches will ensure this is a very durable jacket. The two side pockets and a zipped chest pocket have metal zips for durability. We estimate it will last for more than 3 years in tough working conditions.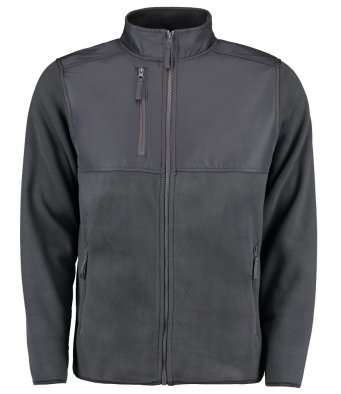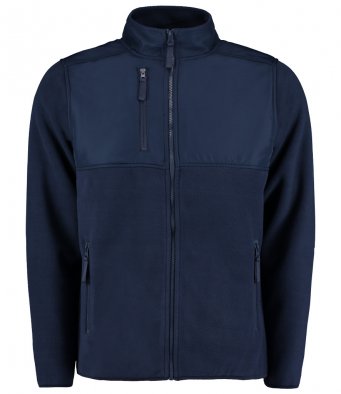 This fleece jacket is manufactured in five sizes (S – XXL) and three colours (black, navy and graphite grey). The fleece can be embroidered in all the usual positions; left breast, left or right sleeve, nape of neck, centre back. And the Talan patches can be printed or embroidered.
As part of Kustom Kits' rollout of new tough workwear they have released the K806 men's trousers which have included all the research and fabric technology to produce a brilliant and comfortable pair of trousers.
Let Aspect help you select the right fleece jacket for your company. Contact David on 020 8991 1800.
See full spec. of this fleece jacket