Friendly advice 020 8991 1800
sales@corporateclothingwear.com


How important is it to wear a hard hat (safety helmet)?
Quick Links
Posted by Jill Cartwright on 06/07/2017
The importance of hard hats (safety helmets)
It may seem obvious to say; hard hats protect you head from bumping you head against fixed or falling objects.
You've probably noticed signs erected at the entrance to building sites that all workers and visitors must wear a hard hat (and usually a hi-viz vest and steel toe cap boots) to enter the site. But building sites are not the only environment where protecting the head is a consideration.
Many industrial warehouses and engineering workshops also require hard hats to be worn as they offer protection against penetration by objects, make the employee more visible, absorb a blow and are water resistant and slow burning.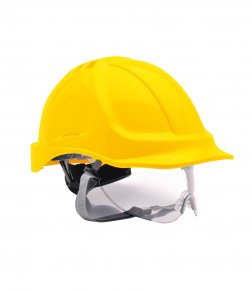 Hard hats come in many styles and colours and are size adjustable. This is important as the helmet must fit properly to be fully effective. Some hats have bigger brim (peak) for sun protection and rain channels to keep rainwater away from the face. It is also possible to add clip-on accessories such as ear defenders, face shields and eye guards (see above picture).
New hard hats will be supplied with a safety instructions leaflet, information on how to adjust the size so it fits properly and a manufacturing date stamped into the shell of the helmet. We stock Portwest and DeltaPlus hard hats.
Once the helmet has received a blow or is cracked it should be replaced as it will no longer provide the protection required. There is some debate about printing your company logo on the helmet. A report some time ago stated that applying a sticker to the helmet may reduce the integrity of the helmet. However, it would take approximately 350 years for this chemical reaction to occur. I'm pretty confident that no hard hat will still be in use 350 years after purchase as it is recommended to replace after 5 years. So I conclude that a small sticker with your logo located above the peak of the helmet will not reduce the efficacy of the protection offered by the helmet.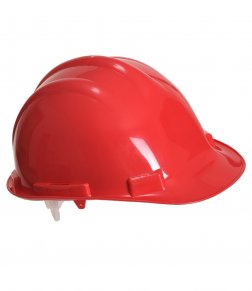 Have a look online at our hard hats and safety headwear or call the Aspect team on 020 8991 1800 for expert advice on the most suitable helmet for your staff.
See our hard hats and bump caps