Friendly advice 020 8991 1800
sales@corporateclothingwear.com


-
What is the UK's best selling polo shirt?
Quick Links
Posted by Jill Cartwright on 31/07/2017
What is the UK's best selling polo shirt?
That's a simple question to answer. The SS11 (634-02-0) manufactured by Fruit of the Loom.
This mid-weight polyester/cotton mix polo shirt could be described as the perfect polo. It's hard-wearing and durable, comfortable to wear and is manufactured in 8 sizes S-5XL and is available in 20 colours.
The specifications of this polo are: 65% polyester/35% cotton, 170 gsm in white, 180 gsm for the coloured garments, 3 self colour buttons, taped neck, reinforced shoulder seams, cuffed sleeves and twin needle stitching. It can be washed at 60°C and WRAP Certified Production.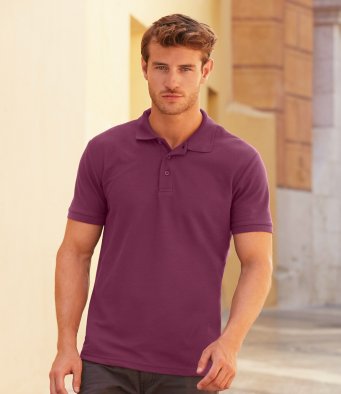 See this best selling polo shirt in more detail
It is ideal for printing a club emblem, team name and number or event details or embroidering a company logo. The sizing is as close to standard as you can get these days. The 15 colours is a wide enough range and the shades of navy, bottle green and red are good shades easily matched.
At Aspect we can offer advice on this polo shirt and the other 100+ polos in our workwear and uniform range. Contact David on 020 8991 1800.